GKN Aerospace King Air Windshields
GKN Aerospace manufactures the world's most reliable King Air aftermarket windshield by producing only new parts that include several proprietary improvements in sensor performance and heating uniformity. The technical improvements in the GKN Aerospace King Air windshield provide better reliability through process improvements, superior materials and design upgrades.
Rapco Replacement Brake Parts
Everyone wants to find ways to decrease operating costs without sacrificing quality or safety, and RAPCO has the solution. RAPCO produces one-piece brake discs forged from steel with no welds, eliminating cracking and rust — and are significantly stronger than their two-piece counterparts. All brakes are FAA-PMA approved and guaranteed to meet your demanding brake needs.
PWI, Inc. King Air LED Lighting
PWI uses state of the art LEDs and driver technology to produce energy efficient, cost effective lighting solutions. PWI's LED Upgrade for the King Air C90, 100, 200 & 300 Series aircraft is a product of innovative technology that reduces weight and current draw, while increasing the life span and reliability of the overall lighting system. The result is an LED retrofit that provides unmatched fit, form and function to the present lighting system and simultaneously maintains all of the same lighting characteristics of the existing system.
Kansas Aviation Firewall Forward Engine Accessories
Together with Kansas Aviation, GlobalParts.aero provides passionately customer-focused solutions for your aircraft – from a single comprehensive unit, to a complete engine package of accessories including: Ignition Exciters, Fuel Controls, Fuel Pumps, Fuel / Oil Heaters and Coolers, Fuel Nozzles, Over Speed, Torque Control / Limiters, Bleed Air, Engine Bleed Valves, Anti-Ice, Oil Pumps, Oil Coolers, Environmental Canisters, and Engine Wiring Harnesses.
SMR Technologies Ice Shield™ De-Ice Boots
When you need to get off the ground in icy conditions, you can trust the time-tested, original design of Ice Shield™. Featuring a system that is interchangeable with existing de-icers and fully compatible with existing air supply systems, SMR Technologies' FAA STC/PMA approved Ice Shield™ De-Ice Boots provide a faster, better, and smarter way to de-ice your aircraft.
Carpet Kits
Add a bit of personalized flare to your aircraft with the most complete, imaginative, versatile collection of aircraft carpeting, synthetic leathers and fabric on the market. GlobalParts.aero provides premium quality aircraft carpet and interior products/finishes, competitively priced while meeting the FAA's most stringent requirements.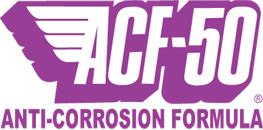 ACF-50 Anti-Corrosion Formula
ACF-50, Anti-Corrosion Formula, is a state of the art, anti-corrosion lubricant compound, specifically designed for the Aerospace Industry. It is an ultra Thin Fluid Compound (TFFC) that actively treats metal using advanced polar bonding technology. ACF-50 actively penetrates and "creeps" into the tightest seams, lap joints, micro cracks, and around rivet heads, displacing moisture and other corrosive fluids (orange juice, coke, coffee, salt water) in these corrosive prone areas. ACF-50's thin film acts like an "OFF SWITCH" for corrosion remaining effective for up to 24 months.